This morning our school went to Civic Hall for next week concert rehearsal. We depart from school at about 8.45am with 2 buses and when we reached there the other 2 school also just reached.
When it my class turn (4 years old), some of them panic till forgot to change place. Hope that day they will shake more and wont forgot the step. I scared them will cry or panic when saw so many people down the stage. We back to school at about 12.00pm, and it was rainy day luckily the parents helps us to send the children from the bus into the school. It was a tiring day to handle the children (15 of them), was a big responsibility to look after them at outside.
Just now we brought the kids to 1+2dad uncle condo. swimming. At first, Carol very scared because last 2 weeks she drops into water and already had nightmare about it. This time I follow beside her with the pool ring (last time forgot to bring), she shaking and giggle there. She cry for hug her and holding her but I refuse to do it and just hold her hand (bad mommy, but need to give her back some confident to swim).
Later, 1+2dad uncle brought some snack and they eat in the water. Carol feels brave abit and start walking around the pool. Later she can takeoff the pool and walk by herself. Good girl and be brave girl.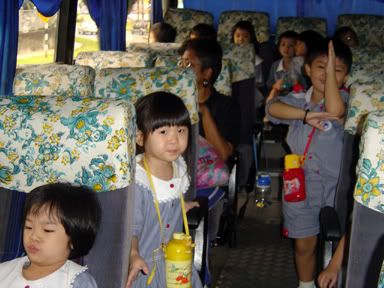 My class students when in the bus.
My sexy daughters with their sexy post.