On Tuesday we had been to Genting for 2 days 1 night, just our family.
Yes
!! First time our family trip to outstation without friends and maid, just family member
~ 5 of us
.
We booking the hotel on Monday, last minute we decide to go Genting. The next day, after my son school over and we had our lunch then right away to the Genting.
We reach there about 3 pm because of they slept in the car, so we go to First World Hotel for a walk. My girls half way walk they fall asleep cause they very excited when reach hotel dunwan continue their nap.
They slept in the stroller and my son continues his 'jungle tracking' till about 6pm the girls wakeup and we had our dinner at restaurant there.
After the dinner, we continue our walk to Genting indoor theme park at Genting hotel. The kids had their fun at there, my son scare play the jungle car ride by himself and need Carrie to accompany him. About Carol, I scare she will fall off if she rides her own so just let her play the putting coins airplane. They had a lot of fun there.
About 9pm, we back to hotel have a rest and change the kids. I and 1+2dad watch TV and the kids still play by themselves. About 10pm, I make milk let them sleep. My son very tired, after his milk he fall asleep very fast, but the girls still rolling here and there. I think about 10.30pm their turn fall asleep.
The next day morning about 8 am we all wakeup except my son, he still sleeping. He weak up about 9pm and I clean them go down for our buffet breakfast. This breakfast include in our package and 2 tickets for Outdoor Theme Park for total of RM 118.80 (hotel room too) very the cheap.
After the breakfast we go to Outdoor Theme Park had some fun b4 go back home. About 1.30pm we on our way home to Petaling Jaya and say bye bye to Genting.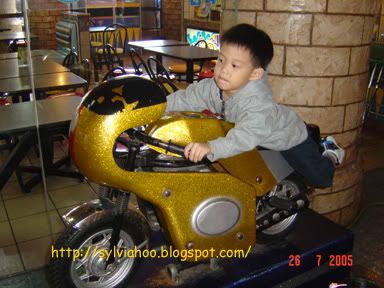 Carter ride moto very 'yau yeng' ler.

They like to play this type of coins toys.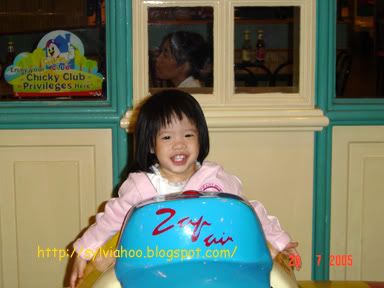 Carol with the putting coins airplane.

Carter scare it move so just take photo.

They tired till slept very kelian to share in one stroller.

Carter scare and play with Carrie.
Carol with dinosaur.

Carter with his 'leng chai' look, this day he dun like to take photo.

Carol play with 1+2dad while we eating McD.

Carrie had her yummy lunch.Here is some video clip that Carter and Carrie ride the car.