Sorry for late update cause back from PD (Port Dickson) I and 1+2dad were fall sick so didn't blog for a week.
Last Saturday morning was a rainy day, I though we cant go but 1+2dad said it got difference between 2 places maybe at PD no rain so we just follow our plant to go PD.
Actually we want to depart on 8 am but the kids were slept until 7.45 am so just let it be. I weak up at 7 am and finish the entire house chore about 7.30 am. I went up to see whether all of them weak up or not but they still sleeping include 1+2dad. I weak them up and feed the kids. Later on, I change and clean the kids and 1+2dad look after them then I go pack up the stuff. (Lazy pack last nite :P)
About 9 am we start our journey to PD, but the sky also start raining. On the way to PD quite traffic jam and took us about 2 ½ hours to reach the destination. It still raining but we not so heavy, we just go to beach have a look. Wah..I though not so many ppl there cause still raining mar..but the beach full of ppl.
I change the kids and play near the beach. About ½ an hour rain stop and sun come out but not so hot. The kids so enjoy, they like the sand and seaside so much.
The girls like to play water and they didn't scare the water so salty. My son he told me he dunwan to swimming cause the water so salty and he just like to play the sand. He still follows 1+2dad go play at the water.
About 1.30 pm we travel back to home. The kids all very tired, they all sleep in the car on the way back to home. We reach home about 3 pm, 1+2dad and my son go sleep together while the girls with me. (cause my son didn't sleep in the car but the girls and I did)
The next day, I play the movie and photos to show my MIL (mother in law), the kids saw the movie at the part of them playing the water and sand they were so happy. They very enjoy this trip then to Zoo last month.
Some of the photos took at PD.
The beach full of ppl.

Still raining so I used the umbrella to cover them but they seem dun like it :(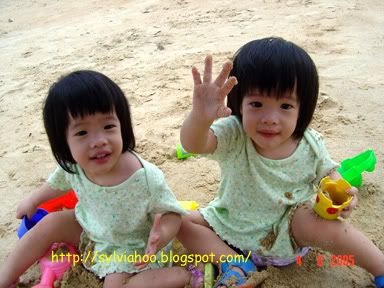 Carrie : Mommy you see my hand so dirty.
1+2mom : Honey..dun worry mommy will wash it afterward.

Carol : My shoe is floating, quick quick get it back.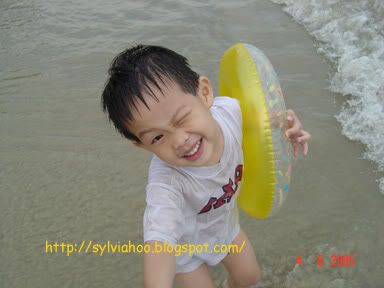 Carter : I'm so happy cause my mom wont scold me today. I can play the sand and water as much as I
can.