About this title,
twinsmom
and
angeline
blog about it and I
also 1 of the twins mom so let me talk about my experience.
Being a mother of twins, the most common and often asked question
is:
"Was because you or your husband family has twins in the history?" (twinsmom i copy you..hehe)
Yes. 1+2dad's family got history. His aunties are a pair of twins. B4 I married I told 1+2dad hope we can get a pair of twins which are 1 gal
and 1 boy so I can
close shop
early..hehe. He said not so easy lar.
I married at age 23 years old and hope to get a baby next year which
was a dragon year baby so can same as us (me and 1+2dad are
same age), but my dream wont come true.
We wait about 1 year plus still dun have any baby and waist a lot of pregnancy test tube. Later we decided to see doctor and this doctor is recommended by 1+2dad ex-boss wife (she cant pregnant about
10 years and see this doctor get pregnant in about 1 year).We see this doctor about half a year than I get pregnant, but not twins.
The second pregnancy is abit surprise cause we just let it be. I wish I
finish
my job
b4 age 30 years old so we can have baby fast and I didn't think i can get twins in the 2nd pregnancy cause my son and the twins just 1 year gap. When the time we know is twins and need to arrange a maid to help us. I cant handle 1 toddler (that time he just 18 months) and a pair of twins baby in the same time.
June 2003
(
week 10
)
Should be go back check up in 4 weeks time but my morning sick very bad so go back in the 3rd week. Doctor scan and let us know it was a twins and cause me very bad morning sick. I had to hang drip at the clinic and 1+2dad spoilt his all arrangement when he know I get a pair of twins. (he decided to order a new car, luckily didn't can save the money for the gals)
December 2003
(
week 32
)
I admit to hospital about 5 days because my stomach sometime abit hard and discharge some brownish. I celebrate my charismas at hospital that year. Go home about 1 week admit to hospital again.
Jan 2004
(
week 35
)
This time baby need to come out early, cause the water in the water beg suddenly increase so much and scare the baby will drink the water. Doctor decided to do c-sec 2 days later. (cause of 'T' too needs to do c-sec).
1.08pm
Carol reach the world with 1.48 kgs
1.09pm
Carrie follow then with 1.75kgs
These 2 gals want to come out early to get '
ang paw
' (my due is during
Chinese New Year
). I though I will lose Carrie because her lung not working properly so she need the ventilator to help her breath. Luckily she ok in the 3rd day, no need the ventilator but she got jaunties (for normal baby the level is ok but for premature baby she need to keep under the light).
I go see them at the 4th day, I nearly want to cry when I saw them. 1+2dad told me the 1st two day the gals body all with tube
lagi kelian
, he cant stay there too long cause he also want to cry. 1+2dad dint told me anything about the gal's condition just let me know the twin I in the incubator and the twin II with ventilator and abit dangerous. He didn't let me know how dangerous she and I are just c-sec think of maybe will lost one of them. (I'm do idiot, should think of the good side mar)
Now saw them very healthy, I'm so lucky still got 2 of them with me.
left : Carol with 1.48kgs and height 40cmright : Carrie with 1.75kgs and height 47cm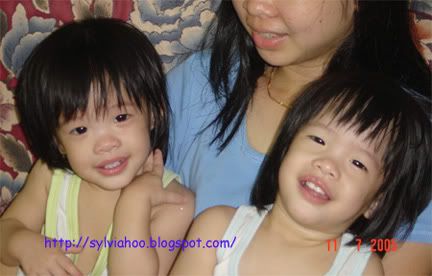 left :
Carrie
with 8.8kgs
right :
Carol
with 8.6kgs
*They always got about 200g difference*