We been to Genting on last Sunday (3 days 2 nite), almost everyday my son said want to go Genting and keep asking me when we wanna go. He count and count and said why sleep so many still haven't go Genting?? It was a nice trip and they want to go again and dunwan to go home when the day we went back home.
Day 1 (28/5/06)
6.00am
Weak up to do all the house work and pack up some stuff leave out yesterday.
8.00am

Weak all the kids and 1+2dad up, let the kid had milk and change them. We prepare and off we go to eat breakfast.
9.00am
We having our breakfast at India shop, after that we heading up to hill.

About 11.00am

We reached at Genting, and get the parking at First World Hotel. (1+2dad said we need to go early cause need quite a long time to check in at First World Hotel). We wait about 80 plus ppl till out turn to check in to the hotel.
Carter, Carol & Carrie took photo at lobby First World Hotel.

About 12.00pm
It is our turn to check in the room and our room no. is 16 772. I book it online and it is a package about RM179.00 with 2 buffet breakfast/lunch/dinner. It is a standard room view that the room is facing to the outdoor team park. My kids like it so much.



1.00pm
We having our lunch at McD. When the kids saw the playground at Indoor Team Park they want to play right away, but we said need to wait till tomorrow. They can play whole day at the team park. We went to Genting Resort Hotel too, there had other theam park inside. We let the kids have some fun there.




2.00pm
Back to hotel have a nap.

7.00pm
We went to have buffet dinner at First World Café. There had quite many choice of food there, the taste not bad.

8.00pm
Have a walk at First World Hotel, my son saw the SnowWorld he said wanna go in but we said had to wait till tomorrow. We bought a lightning mini fan for him and 2 lightning whistle for the gals, they like it so much.

10.00pm
We went back to hotel sleep and watch tv. All of us slept at about 12.30am that nite. We bought along the queen size air mattress so we could have more space to sleep. My kids like to sleep on that air mattress, so they all sleep together. I and 1+2dad can sleep together without the kids beside us.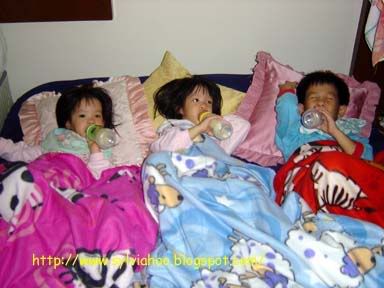 Note : Day 2 and day 3 will be coming up soon.